The world of cryptocurrency and more specifically, blockchain technology, is opening the doors to so many exciting opportunities. It is starting to hit the music world and I couldn't be happier about that. For one, it should completely change the game of music publishing and artist rights. Blockchain technology is an intimidating topic and many people think of Bitcoin when they hear the term. What I am excited about is the changes it is making in the world of contracts. It allows for a decentralized ledger of agreements that can't be cheated. It is a self-checking, self-regulating, self-governing system that allows a layperson the ability to create contracts. Whether the contracts are for partial song rights or real estate, the basic premise is the same. For those of you a little more familiar with cryptocurrency, or those who want to dig deeper, the Etherium network is especially exciting and emerging as the go-to network for smart contracts.
Let's jump to the world of music. Are you familiar with Vezt? They refer to themselves as the "first music rights marketplace". A place where people like you and I can buy rights to songs and share in the earnings. In fact, I have bought rights to about 12 songs already and am excited to actually have access to some big-name artists like Beyonce. Here is a certificate for one that I bought not too long ago.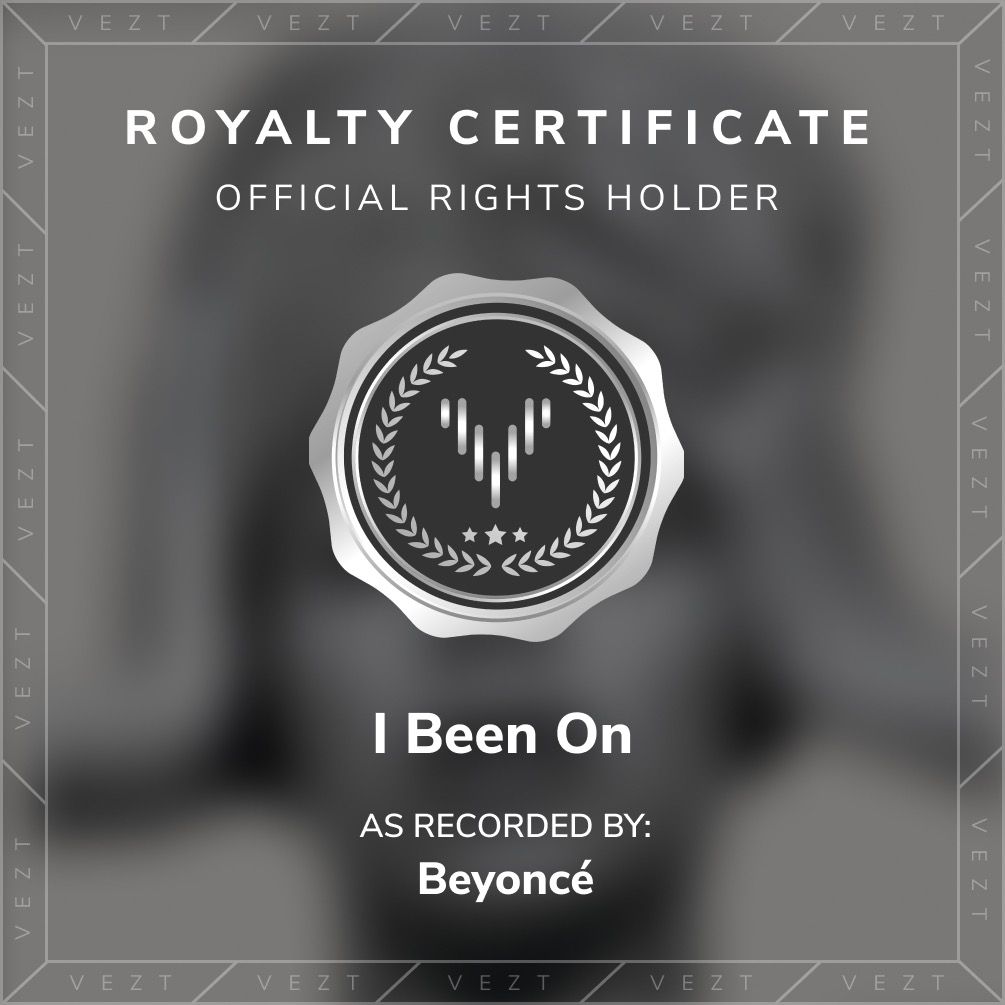 Along with Queen B, I have bought rights to songs by Tone Loc, Johnny Cash, Billy Idol, Lil Wayne, Fergie, Missy Elliot, Machine Gun Kelly, Panic! At The Disco among several others. Contrary to what you might think, you can get started for as little as $5.00. 
How does it work? Vezt is on the Stellar blockchain which allows song rights owners to sell off portions of their rights for a specific period of time. So if we use the Beyonce example from the picture above, one of the songwriters on the track (Jonathan Myvett) is offering up 3.125% of the portion of his songwriting rights for 5 years and he is looking to raise $21,000. So if you have $5 to spend you can actually buy $5 worth of the 3.125% of the song that is available on the marketplace. And all of this is accounted for automatically on the Stellar network and the royalties you earn are deposited into your account quarterly.
Vezt guarantees that you will make your initial investment back (minus some transaction fees), but the idea is to make a little more than your initial investment. Basically I will earn my portion of the Beyonce song for the length of the term, which in this case is 5 years. Once I make my initial investment back, the rest is profit. If I never make my initial investment back in the 5 years, the term will be extended until I do. 
Not only is all of this an exciting and fun thing to be a part of, but it is helping to flush out my catalog and build a foundation for my publishing company, Jaycent Publishing. There will be a future blog post all about that but in the meantime, I am glad I have names like Lil Wayne on my publishing roster helping me to hedge my investment a bit. Thanks, Lil' Wayne and Beyonce for all your help!